---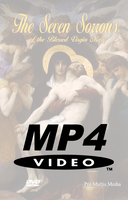 **Digital Download**
"And thy own soul a sword shall pierce, that, out of many hearts, thoughts may be revealed" St. Luke 2.35
Seven Sorrows of the Blessed Virgin Mary
Narrated by Matthew Arnold
Devotion to the Sorrows of Mary is a traditional favorite among Catholics. Long approved by the Church, this devotion is part of her official liturgy; both the Holy Mass and the Divine Office (Liturgy of the Hours). In the Sorrows of Our Lady, we see a reflection of the suffering of the Sacred Humanity of Our Lord. Through devotion to her Sorrows we recall that to be her true children we must each pick up our cross daily and follow her Divine Son. Seven of Mary's Sorrows or Dolors have been chosen for our special veneration.
This presentation includes:
- an Introduction to the history of the devotion
- the traditional Daily Devotion to the Seven Sorrows from the Raccolta
- the Chaplet of the Seven Sorrows(Servite Rosary)
- the Litany of Our Lady of Sorrows
- meditations from "The Glories of Mary" by Saint Alphonsus Ligouri
Along with the beautiful prayers to Our Sorrowful Mother, this presentation contains a veritable treasure-trove of traditional Catholic art accompanied by a subtle musical background of Marian Hymns arranged exclusively for Pro Multis Media. The Chaplet includes opening and concluding prayers plus the Litany of Our Lady of Sorrows (approved for private use).